Most Romantic places in Udaipur, the city of Lakes
Want to spend romantic moments with your lover? Discover with us the most romantic places to visit in Udaipur.
There is one place which surely would be your best destination. The city of Udaipur is in the western state of Rajasthan in India and is rich with its beautiful culture and tradition. It is known as the "City of Lakes" due to the presence of several lakes within its boundaries. It is surrounded by the Aravalli Hills and is considered one of the most romantic cities in India and is among the best wedding destination and Touristic place in the world.
Sounds like a place you would love to visit with your better half,  isn't it? Read to know the top places you can visit together and make eternal romantic memories which you'll cherish once and all.
Here is the perfect list of the Most Romantic Places in Udaipur:
Table of Contents
Sunset Terrace
Head to Sunset terrace at Fateh Prakash Palace (see the official website), which is surrounded by the Aravalli Mountains and overlooks majestic Lake Pichola. Sitting and seeing the sun setting over the horizon is surely one of the most interesting things to do for couples. Don't forget to capture this beautiful view and your beautiful memories of the evening with your camera.
Location: Fateh Prakash Palace, City Palace Complex, City palace road, Silawat Wadi, Udaipur, Rajasthan 313001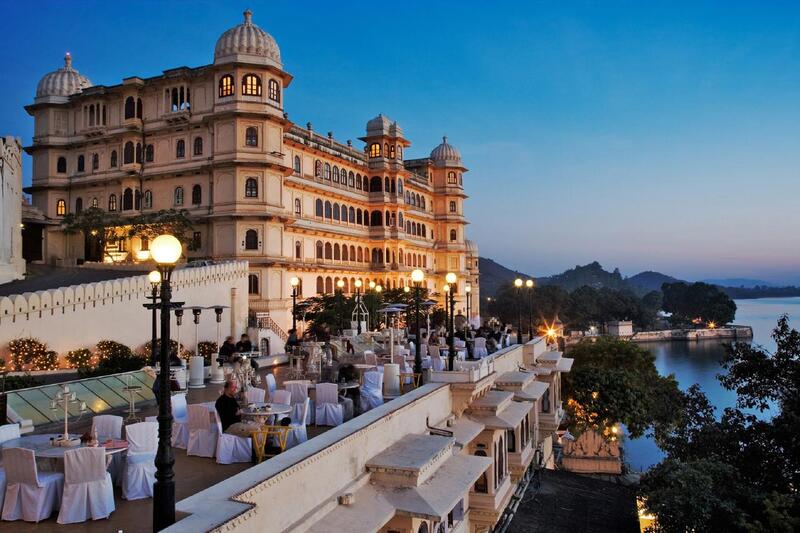 Shilpgram
Located about 3 km west of the city near Havala Village is Shilpgram (Village of "Shilpis" which means artists). This complex for rural arts and crafts is a living ethnographic museum to show the lifestyle of tribal people of the West Zone. You can see the 26 different types of traditional village houses from Goa, Rajasthan and Maharashtra decorated with traditional art, and spend a day exploring traditional art in the tranquillity of the village.
Location: Hawala Kalan, Shilpgram, Udaipur, Rajasthan 313001
Manek Chowk
Light and sound shows are one of the best things to experience which tells us about the Royal history of The Rajput Dynasty. Do not miss this amazing experience of the hourlong Mewar light and sound show at Manek Chowk. It is one of the most romantic things to do in Udaipur with your partner, the show brings alive the rich history of this town and leaves you mesmerized. It is attended by Indians as well as foreign tourists who are interested in Indian History. Manek chowk happens to fall in the list of  best places to visit in Udaipur for couples, without any shadow of a doubt.
Location: City Palace, Manek Chowk, Udaipur, Rajasthan, 313001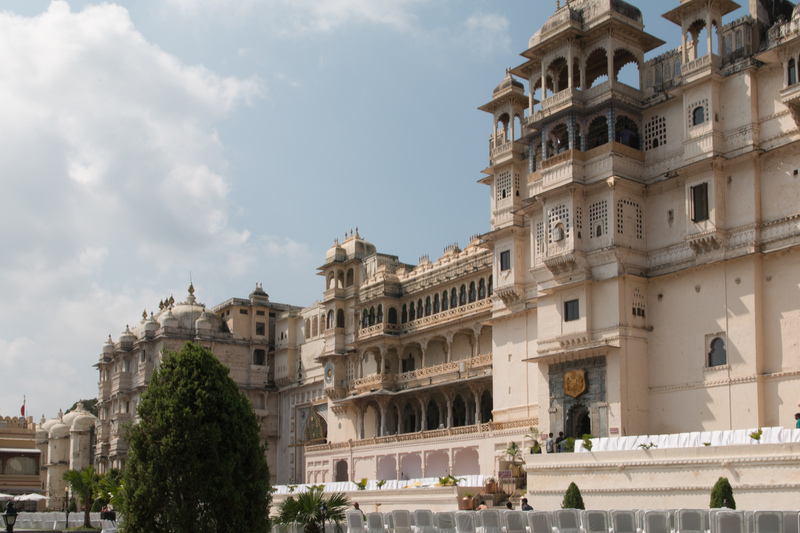 Ambrai Ghat
A romantic date night in Ambrai restaurant with the lake view of Pichola is one of the most beautiful things to do in Udaipur at night with your love. The restaurant situated by the ghat offers great views of the city and is one of the most alluring places to visit in Udaipur. The delicious taste of traditional Rajputana dishes with wine would add a spark into your romantic experience for sure. You can spend a tranquil and romantic night and feel the romance in the air.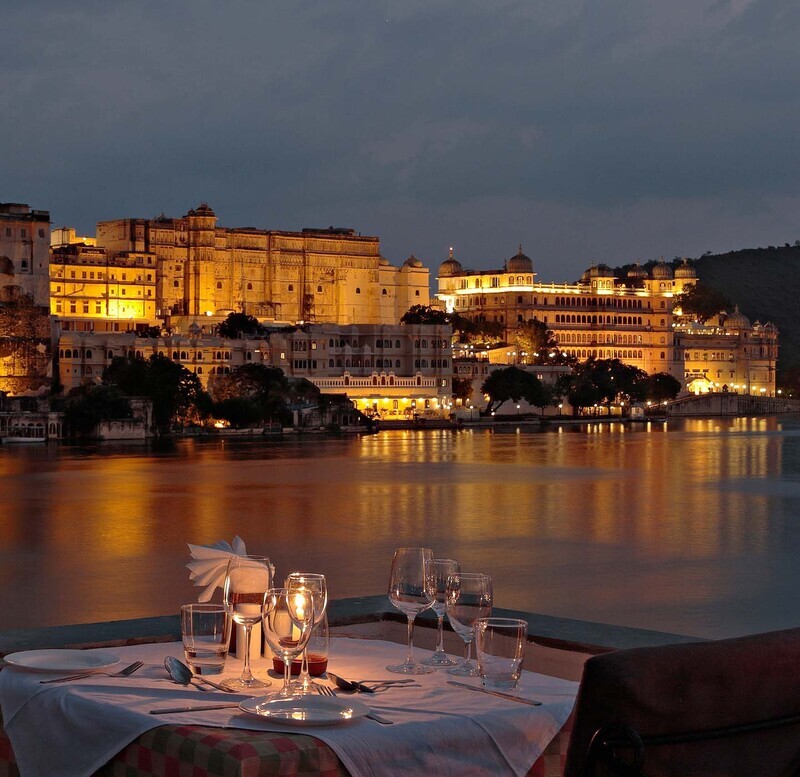 Lake Pichola
In the sunset this is one of the most romantic places in Udaipur to visit. Sail on the waters of lake pichola with the love of your life on a luxurious boat. Enjoy the evening covered in orange hues of the dusk and glittering city lights. The hour-long boat ride along the lake becomes most romantic things to do in Udaipur as evening culminates into night, filling the sky with stars.
Location: Beside Udaipur City Palace, Pichola Lake, Udaipur, Rajasthan, 313001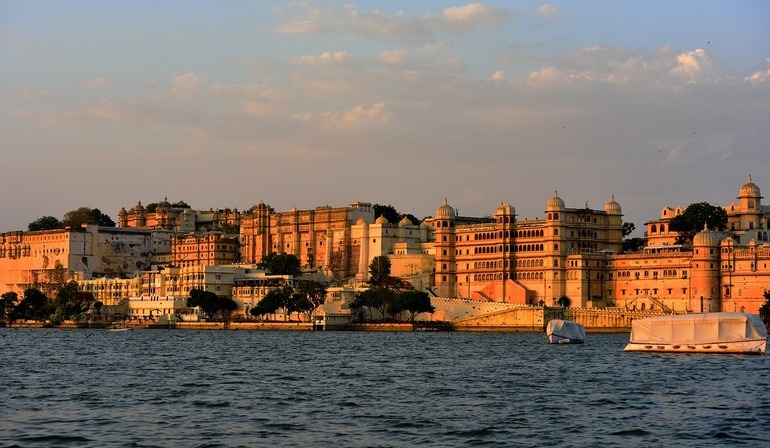 Jag Mandir
Jag Mandir is a stunning palace located on the serene lake Pichola in Udaipur. Its construction was done by three Maharana Rajputs of Mewar between 1551-1652. The palace got its name from the Maharana, Jagat Singh, who was responsible for the completion of its construction. Also known as Lake Garden Palace, It used to be summer resort for the Royal Family. This place now serves as one of the most luxurious heritage accommodations in Udaipur. The traditional architecture, lakeview, cafés and good weather-owing to its location will make your stay in this royal palace an extremely romantic experience.
Location: Pichola, Udaipur, Rajasthan, 313001
Fateh Sagar Lake
Fateh Sagar lake is one of the most romantic places in Udaipur a charming artificial lake located North of the popular lake Pichola in Udaipur. It was built in 1680s by Maharana Fateh Singh. It is famous for its mesmerizing sunset views and boat rides. Come here with your partner for a romantic ferry ride. The best time to experience this in the late evening, when you can see the sun setting while you are on the ferry. You can also enjoy speed boating and regular boating at lake.
Jagdish Temple
Sitting in the heart of Udaipur, Jagdish temple is a huge Hindu temple that is nothing less than an architectural marvel showcasing the hints of Mewar dynasty perfectly. The vibrant and massive halls, intriguingly and beautifully carved pillars, colourful walls, and the carved ceilings of jagdish temple make this location a wonderful choice to visit. Built by Maharana Jagat Singh, the temple blankets around three stories and is home to several deities including Lord Vishnu, Lord Shiva, Ganesha, Sun God, Goddess shakti and more. (more info)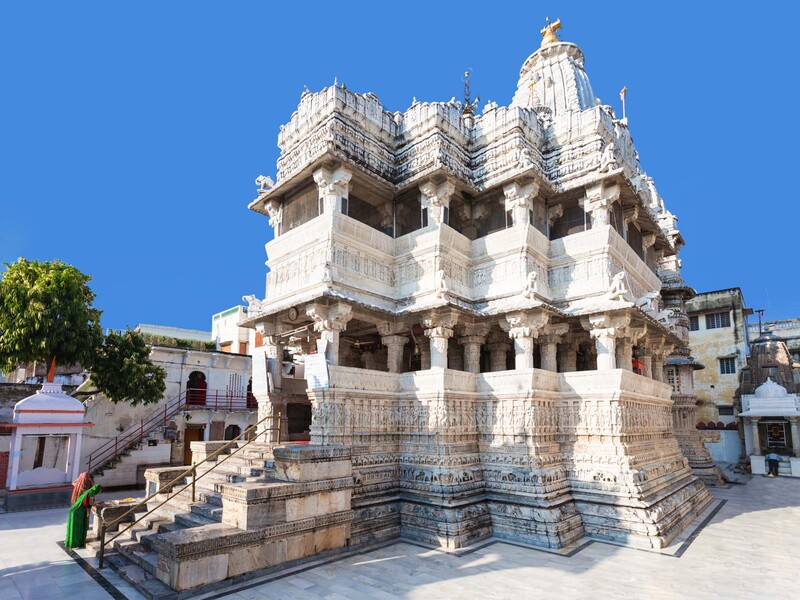 Palace Garage
If you have that special corner in your heart for cars just like us, do not forget to add the Palace Garage in your bucket list when paying a visit to Udaipur. This Royal Garage is home to a massive collection of vintage cars that never fails to impress car aficionados. Launched in the year 2000, this classic collection of the cars was or still is the property of Maharanas of Mewar. All the cars stored in this garage are completely in their working conditions, despite being over seventy years old.
Location: Old City, Udaipur, Rajasthan, 313001 (website)
Crystal Gallery
In this gallery you can find some of the most beautiful and enchanting pieces made of crystals that one has ever seen; Crystal Gallery is in a Palace that makes everyone fall in love with itself in an instant. This magical location boasts about the largest and exclusive collection of crystals in the entire world. The famous Crystal Gallery was built during the year 1877 by Maharana Sajjan Singh and has earned its fame of being one of the offbeat places to visit in Udaipur.
Location: Jagdish Chowk, 3, City Palace Road, Rao ji Ka Hata, Udaipur, Rajasthan, 313001