A Slice of Paradise in Buenos Aires
Whoever said Buenos Aires is the Paris of South America is definitely correct. I cannot agree more because regardless the Eiffel Tower, Louvre, etc, Buenos Aires has the fulfilled the requirements to be called as the Paris of South America. If you plan to visit Buenos Aires in the near future, we have a mini guide of how to fully enjoy the trip in Buenos Aires.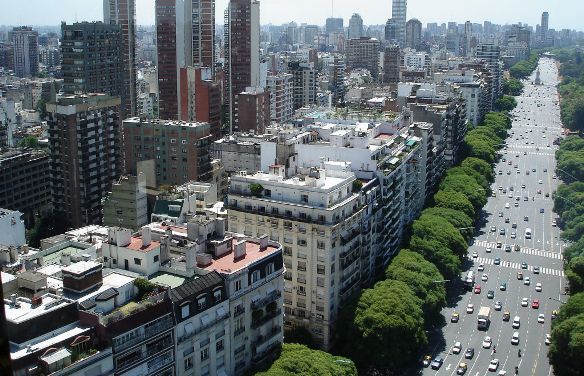 08.00
Wake up! Go to Plaza de Mayo, the heart of the city where the two legends of the country, Evita Peron and Diego Maradona earned recognition from the public.
8.30
A half hour at the historic square is enough; now walk on Avenida de Mayo to relish the Parisian-decorated buildings and Art Nouveou architecture of Hotel Chile. Grab a cup of coffee and medialunas at Café Tortoni. It's the oldest café in the city, dated from 1858.
09.00
Still on Avenida de Mayo, you can have the chance to admire the Plaza del Congreso and Belle Epoque fountains.
09.30
Walk towards the Avenida 9 de Julio and get your feet in front of the Obelisco, the monument to commemorate the Independence Day of the country from Spain.
10.00
Still on the same avenue, visit the Museo Nacional de Bellas Artes and museum of modern Latin American art (MALBA). Get a glimpse of the Recoleta Cemetery to see where Evita Peron was buried.
13.00
Have lunch at Café Biela on Avenida Quintana 600. Steak and red wine sound terrific, right?
14.00
Take a taxi and go back to the start line, but this time walk south on Avenida Defensa. You will get colonial experience along the street here.
14.30
Continue walking to San Telmo. Full of Spanish architectures and colonial buildings. Pasaje de la Defensa will be a great spot to shop at flea market.
15.00
Still in San Telmo, go to Plaza Dorrego. Within a few minutes, you will arrive in the center of antiques market of the city. Have some fun, here. Go grab some beer at Bar Plaza Dorrego.
16.30
Take a bus number 152 to get to La Boca, the Little Italy area of the city. Relish the panoramic views along the way. La Boca is a historic district especially for Diego Maradona.
17.30
Arrived in La Boca, explore the area and walk to La Bombonera to watch the city's famous soccer team Boca Juniors practice the skills. Go to the museum of the club to see how great the team was.
19.30
In San Telmo, go to El Querandi for dinner and watching the tango dance performance
23.00
Go to Palermo district and spend the night away while sipping Malbec red