The 12 of the free things to do in Barcelona
Barcelona is a remarkable location that offers many free attractions and entertainment.
One of the best specifications of Barcelona is its architecture, and many of them you can admire from the outside for free. For example, without spending a penny, you can begin from the ornate sculptures in the Park of Guell to the facade of the House of Baglio.
For people who are interested in museums and art galleries, you'll be happy to know that many of Barcelona's main cultural attractions offer free access, but there're on certain days of the week or at certain times.
Try to start with the gardens and lake in Citadel Park, then you can take a walk near the golden sands of Barceloneta Beach, there're enough options to relax and enjoy the natural charm of the city.
For example, let's take the Picasso Museum, it's open for free only in evenings on Thursday, the Palace of Catalan Music offers also has free guided tours, but it's only on certain days.
Here are 12 of the best free attractions that you won't want to miss:
Park Guell
Park Guell is an attraction of the city, and it's also included in the list of must-see attractions in Barcelona.
Park Guell is a public park with mosaics, works of art and many colorful sculptures, and the designer of the park is architect Antonio Gaudi. If you're ready for hiking, there are many different zones and levels in the park with spiral paths and stairs that you can walk along.
The main terrace of the Park Guell, one of the most famous and unforgettable parts, because there's a curved bench covered with colorful mosaic tiles. This is a popular place where all tourists like to take pictures and immerse themselves in the atmosphere.
There's another attraction – the Dragon Staircase, a majestic staircase guarded by a giant mosaic dragon. Visit if you're in Barcelona and can personally get acquainted, this is a one-of-a-kind destination that is sure to leave an indelible impression.
There're transportation options:
Metro: Lesseps or Vallcarca (L3 line).
By bus: Travessera de Dalt Park bus stop (H6 or D40).
The cost of the visit: People can visit most areas of the park for free, except for only the monumental area.
You can visit the official website for more information visit official website.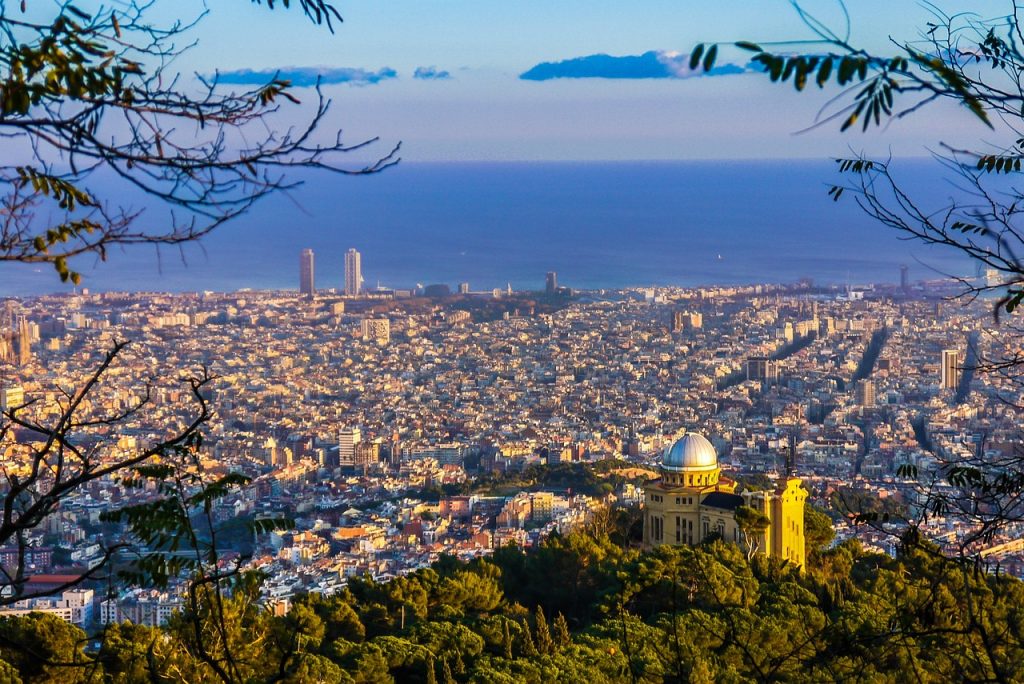 La Rambla
The coolest street in Barcelona is La Rambla. It'll start from Plaza Catalunya to the sea, there're full of restaurants, cafes, shops and street performers. This is a great place to walk and immerse yourself in the vibrant atmosphere of the city.
There is a large covered market there, operating since the 13th century – this is the Mercat de la Boqueria, which is still a popular attraction of the Rambla Boulevard. This is a fantastic place where you can find fresh produce, fruits and vegetables, exotic spices and seafood, and the market is really lively.
One of the interesting features is street art, for example, the iconic sign La Boqueria. If you are going to share a photo of the most popular place of La Rambla in your Instagram, then here you're, you can take a picture here with a colorful and funny work of art. Don't forget to look around at the street performers, which can give you feelings of lively vibes.
In general, the Rambla Boulevard you can note in your must-visit places, and don't forget to put on your comfortable walking shoes and get ready to explore the Rambla Boulevard!
There're transportation options:
Metro: Plaza Catalunya or Drassanes Station (Green Line, L3 or the Red Line, L1).
Train: R1, R3, R4.
By bus: 22, 24, 54, B24, D50, L95.
Gothic Quarter
The Gothic Quarter is a charming neighborhood located within Barcelona's Old Town. The Barcelona Cathedral, built between 1298 and 1450, is one of the largest cathedrals in the EU and houses important collections of artworks by Goya and El Greco.
Placa Sant Jaume is a square that features several buildings designated as UNESCO World Heritage Sites, including Barcelona's Town Hall and the Palau de la Generalitat, the seat of Catalonia's government. Carrer del Bisbe is a street with a beautiful facade that houses shops selling everything from books to locally designed clothing items.
The Parc de la Ciutadella features paths and green areas, as well as Barcelona's zoo. Another great option is Plaça d'Espanya, which is home to several buildings designed by Antoni Gaudi.
Finally, the Gothic Quarter is an excellent destination for shopping. You can find souvenirs and gifts at affordable prices, as well as local art. If you have a unique sense of style, there're plenty of shops specializing in handmade items.
Like a jewelry or clothing made from natural materials such as leather or wool. These shops often feature their own designs, but also sell products from other artists around Spain and Europe.
Nearest metro stations: Passeig de Gràcia or Jaume (L3 or L5).
Carrer del Bisbe
The street with the most beautiful facades! You can take a walk and enjoy the view and atmosphere of life on this street. It was constructed during medieval times but has been renovated many times since then; today it houses shops selling everything from books to clothing items made by local designers.
Placa del Rei (King's Square): This square used to be called Plaza de Santa Cruz until 1714 when King Philip V granted permission for its renaming after him following victories won against France during War Of Spanish Succession which ended two years earlier when peace treaty signed at Utrecht required Philip V renounce claim throne France so instead became ruler Spain along with wife Marie Anne Victoire d'Orleans who gave birth son Louis XIV later known better known today simply Louis XVII.
Metro station: Jaume I
Bus: N7
Plaça d'Espanya
If you want to take in some of Barcelona's most famous architecture without having to walk too far from where we are now (the Gothic Quarter), then head over here! This is Plaza de Espana in Barcelona. The plaza features several buildings designed by Antoni Gaudi including Palau Nacional de Catalunya (National Palace) and Torre Bellesguard (Beautiful Tower).
Spain Square in Barcelona is one of the main squares of the capital of Catalonia, a landmark of the city. The square was built for the World's Fair in 1929 by architect Josep Pui Kadafalsh and Guillem Busquets.
In the center there is a monument-fountain with multiple sculptures. The square is easy to find in the city by the 47-meter Venetian Towers visible from afar. It is the most important transport hub of the city.
A beautiful place, very popular. Located at the foot of Montjuic Mountain. It is surrounded by luxurious buildings, and in the middle, there is a huge fountain, built in 1929. Despite the busy car traffic, the space filled with light and air. It's surrounded by bright greenery of lawns and trees. It creates a comfortable atmosphere for walking at any time.
Metro station: Llobregat–Anoia (L8)
Buses: 46, CJ, D20, D40, H12, H16.
La Barceloneta Beach
Barceloneta is a precious beach and one of the oldest and located in the most interesting area in the vibrant city of Barcelona. The sea is clean, warm, and has a gentle entrance, making it perfect for children.
Young people can enjoy the many bars and restaurants nearby, and the beach is well-equipped with all the necessary amenities. The promenade that stretches behind the beach is perfect for roller skating, skateboarding, and cycling. The average width of Barceloneta is almost 90 meters, and it has been awarded the Blue Flag award for the purity of its waters and sand.
Barcelona Beach is free and open to anyone. For those seeking something unique, Barceloneta has a touch of Thai flavor, with slim-looking Asian women offering strong massages on the beach.
The beach stretches from Carrer Almirall Cervera Street to the Olympic Port, bordered by Saint Sebastian Beach. The beautiful sand, sea views, and excellent facilities, it's the perfect place to feel the Mediterranean lifestyle.
Metro station: Barceloneta (L4)
By bus: 17, 36, 39, 45, 59, 64 and D20.
There're no admission fees or tickets required to access the beach.
Parc de la Ciutadella
Citadels is a great park with its own history. There are several attractions, a zoo and a pond with ducks. You can have a good walk, go boating or have a picnic on the grass. This park is very harmonious and here the unique world of fauna and flora fits well into the urban framework. A tangle of picturesque nature and architectural structures on an area of 30 hectares. Located in the old town. This place is a symbol of freedom for the residents of the capital. What to see in the Parc de la Ciutadella? Because of the multiple sculptures and architectural structures, the park is also called an open-air museum. In 1951, the museum acquired the status of a historical monument. Almost a lot of buildings in the park remained from the World's Fair in 1888. In the Parc de la Ciutadella, visitors can see rare species of animals in a beautiful zoo. You can see the monumental Cascade fountain in the northern part of the park, which is located next to Puhades Boulevard. The current Martorell Museum is the Museum of Archeology and Natural Sciences – it was the first public museum of the city.
Metro: Ciutadella / Vila Olímpica (L4).
Tram: Wellington (T4).
Montjuic Castle
The fortress on Montjuic Mountain is not only a museum, but also an excellent observation deck with a breathtaking view of almost the whole of Barcelona. Montjuic Fortress is located on the highest point of the mountain of the same name.
It appeared in 1640. The fortress received its modern appearance during the works on its strengthening carried out in the period 1779-1799. Previously, granite mined in the quarry of Montjuic Mountain was used for the construction of Barcelona.
The Roman wall and the temple, the first Gothic temples and cathedrals, the first Christian church were built from it. In the Gothic quarter, you can find elements of the building. At the beginning there was a watchtower on Montjuic Mountain, then it was used as a lighthouse.
And then it was turned into a fortress. Before Napoleon occupied the fortress, it was a prison.It has passed the path of restoration and wars and is now one of the attractions of the city. A square tower is built in the front part. Terraces are equipped above the courtyard, which are the roof of the fortress galleries.
A panorama view of Barcelona and the surrounding area begins from here. From where you can see the cargo port of Morroth to Llobregat, it is called the Sea Wall. There are old artillery pieces on the bastions.
Transport options:
Bus: Montjuïc Hill (L150)
Metro: Montjuïc Park (L2 and L3).
Admission is free every Sunday after 15:00, and on the first Sunday of the month — all day. Also, for more information, visit the official website.
Museum Picasso
Pablo Picasso is one of the most famous artists of the time. His legacy is huge. A large volume of the painter's works, where he gathered is the Picasso Museum in Barcelona. It's a popular and famous place in Barcelona
In 1963, the museum was opened at that time and there were approximately 600 works in the repository. But to date, his fund has been replenished — the total number of collections is 3,500 copies. Picasso's work is an example of the medieval architecture of Catalonia.
While visiting the museum, you can get double pleasure, because there are wonderful examples of art and also the amazing architecture of five huge estates. The museum gives you the feeling of being closer to the history of Catalonia. You can see and find out what the city of Barcelona was 600 years ago. The sample in the museum makes it easy for tourists to trace the path of a genius, get acquainted with his creative growth.
As well as his changes in worldview in the process of growing up. All his works are divided into 15 categories, and they are hung and arranged according to chronology. For example, the first group is Pablo's sketches made before the age of 14. That is, even before the young painter's family moved to the capital of Catalonia.
Then there are the artist's life segments. Two of Pablo Picasso's first works are also in this department, he painted them as soon as he arrived in Catalonia. They are called "Science and Charity" and "First Communion". These collections are the most visited.
Admission for free: only the first Sunday of every month all day and every Thursday after 16:00. There are also open days: February 12, May 18, September 24, December 18-20.
Transport options:
Metro: Jaume I(L4)
By bus: 47, D20, H14, V15, V17, V19.
Address: 08003 Barcelona, Calle Montcada 15-23
Catedral de Barcelona
Barcelona Cathedral is a stunning example of Gothic architecture with unique Catalan elements. The best view of the cathedral's main facade can be seen from the square de la Seu.
The wooden sculpture of Christ of Lepanto is one of the main attractions, along with the sarcophagi of Count and Countess Berenger and the carved wooden choirs of the 14th century.
The alabaster sarcophagus of Saint Eulalia is located in the crypt under the altar, and the courtyard has thirteen white geese in memory of Saint Eulalia. The church assembly hall features several significant works of art, including the "Pieta" by Bartolome Bermejo.
To get to Barcelona Cathedral, the nearest metro station is Jaume I (L4).
Entrance to the cathedral is free depending on the time of your visit. For more information follow the website.
Gracia
Gracia is in the heart of Barcelona. It has a bohemian and cosmopolitan atmosphere that attracts creative young people, artists, and musicians. The village was founded by Carmelite monks, so the locals have an independent character. It became part of Barcelona at the end of the 19th century. Gracia means "city within a city".
One of the best things about Gracia is that it is not overrun by tourists, so you can experience the neighborhood like a local. It is entirely self-sufficient, with plenty of compact shops, designer boutiques, great bars, and cozy cafes.
Although the buildings and streets are smaller than in the city center, it still boasts beautiful examples of Art Nouveau architecture.
At night, the city comes alive with Catalan youth migrating from bar to bar, making for an authentic and fun experience. The locals hold their own holidays and have a traditional way of life, but they are also welcoming and open to visitors.
Their residents love their neighborhood and call themselves Gracians, spending their free time in the cozy squares.
The real estate prices in Gracia are high, but the area is considered one of the best to live in Barcelona. The district has several sub-areas, including Camp d'en Grasso, Gracia Nova, La Salute, El Col, Vaicarca, and the Penitents. Each of these areas has its own unique charm and attractions.
If you're looking for a quieter and more secluded area, Vaicarca and the Penitents are excellent choices.
The steep streets can make it challenging to travel on foot, but the city has built escalators and provided minibuses to solve this problem. The housing stock in these areas consists of low-rise blocks and private houses, surrounded by pristine nature.
Metro: Fontana, Lessep (L3), Diagonal(L3, L5), "Joanic" (L4).
Placa Reial
A Must-Visit Destination in Barcelona.
Placa Reial is one of the most beautiful and popular squares in the city. In the heart of the Gothic Quarter there's the Placa Reial. It's a vibrant and lively place where you can find all sorts of entertainment.
Here are some of the top attractions you can find in Placa Reial:
Font de les Tres Gracies
The Font de les Tres Gracies is a beautiful fountain located in the center of the square. It was designed by Antoni Rovira i Trias. And it features three graceful women holding up a giant clamshell. The fountain is surrounded by palm trees, so there's a shadow where you can rest. Also making it a perfect spot to relax and from here you can take in the scenery.
Placa Reial Market
If you're unique shopper shopping experience, the Placa Reial Market is definitely worth checking out. You can find all sorts of local goods here. For example, from handmade jewelry and clothing to fresh produce and seafood. From 9am to 8pm, you can have a walk in this market.
Restaurants and Bars
Placa Reial is home to some of the best restaurants and bars in Barcelona. If you're looking to taste locals' food, welcome here, you'll find new dishes.
Getting to Placa Reial by metro: Drassanes (Line 3).
The cost of the visit is free.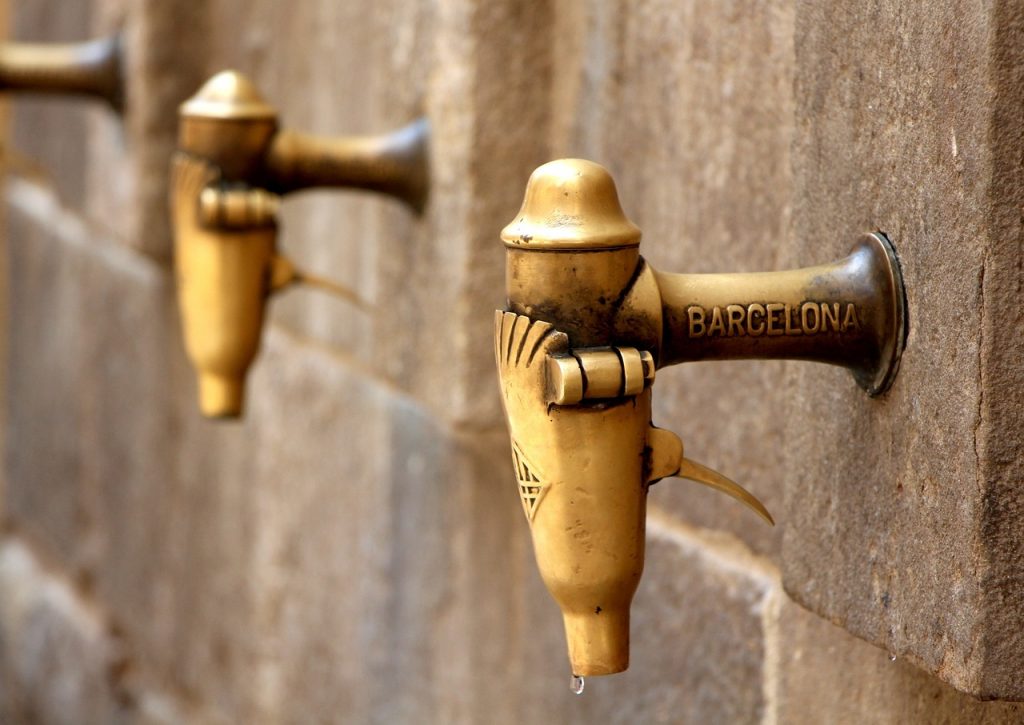 Barcelona is a wonderful city to explore and walk, with many adorable neighborhoods which you should discover.
Let's take an example the Gothic quarter, there're full of narrow streets, hidden squares and old buildings, and it's a fascinating place for hiking.
In the other side if you're looking a lively neighborhood with colorful buildings, that's an exact Gracia, there're independent shops for shoppers and a lively atmosphere can give you feelings of life in Barcelona, and that is absolutely good idea for leisurely walks.
Regardless of your limited budget or looking for something that you can do for free. In addition to previous attractions, the city is also home to many amazing green parks and stunning beaches.
They're also completely free to visit. There're so many opportunities to appreciate the atypical combination of Renaissance, Gothic and modernist styles of the city.
Packing your luggage and looking for days for your next vacation in Barcelona is the perfect plan. Overall, Barcelona is a city with amazing and with many free entertainment and attractions, destinations with many options of fun and for limited budget travelers and just for anyone who wants to experience without going broke.