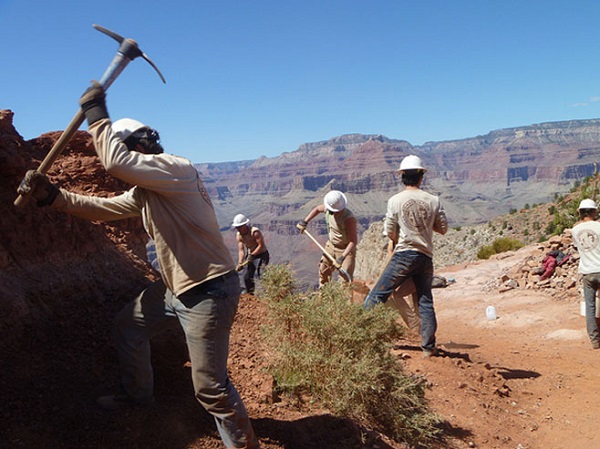 There are heaps of people the world over who long to take time off, to get away from their work lives and maybe even their home lives. These holidaymakers will go on vacation out of town or maybe a staycation whilst in town. But there's a third option for those who want a change in scenery and can't think of a better way to spend their time than to help others. This latter group would love a volunteer vacation to fill their needs.
This type of vacation is referred to as voluntourism and vacationers all around the globe can partake in such a vacation. There are non-profit organizations around the globe where you can offer your services throughout the year.
Summertime Ideas
Habitat for Humanity
Why not take a week or two off and help build a home or community for those less fortunate than yourself? You could even sneak in some time for sightseeing when you're not building. This is one of the least expensive vacations you could take if you plan your budget well.
New York City
One of the volunteer vacations you may want to try is with Urban Studies in NYC. This group researches the urban ecosystem and is spearheaded by the National Park Service. Do good while seeing one of the most-visited cities on the planet.
Grand Canyon
Millions of visitors come to this Wonder of the World each year, but few known of the painstaking work involved in keeping the place so grand. That's where your vacation hours come in. Whilst volunteering your vacation at the Grand Canyon, you'll head off into the hills to clear the canyon of weeds as well as dipping in a little bit into neighboring Kaibab National Forest. The National Park Service is in charge of this program.
Galapagos Islands
Why not head off to an island country for your volunteer vacation? The Ecuadorian government heads up a program wherein you will be ensuring that the Galapagos Islands recover from overtourism. Mankind does a lot of damage, you'll help repair the grounds and prevent even more damage from happening. The program involves reconstruction of a natural habitat in San Cristobal and will blossom out from there.
China
Do you have a group at home that requires some fundraising of its own? Then why not travel to China and walk the Great Wall of China? Charity Challenge offers this plan during the summer. You can raise money for your favorite charity by walking the Wall.
International Ideas
While we mentioned a few international volunteer vacations above, this section will concentrate on even more. Some are seasonal, so double check before you make your plans.
Pisa, Italy
Spend a summer along the ancient Tuscan Coast of Italy. Here you'll be helping to preserve ancient Roman ruins of a villa that watches out over the Tyrrhenian Sea. Go to Earthwatch.org for information.
GlobeAware
This organization works in different countries for one-week voluntourism opportunities. For instance, you could head off to Brazil and help build a community center or maybe go to Thailand to work with Buddhist monks.
South Africa
Do you love animals? Animals of all shapes and sizes? Then head out and steady meerkats in the Kalahari Desert for 14 days. You will study and record various details about these critters. Whilst in the area, you'll also have the chance to go to the Kuruman River Reserve to study other wildlife.
British Columbia, Canada
Family units may enjoy this gig. Earthwatch has information on a program that takes place during the summer in the Clayoquot Sound. You and your family can have a grand old time volunteering with researchers monitoring grey whales and the effects of climate change.
Organizations to Check Out
There are several other organizations that offer volunteer vacations to single travelers, families, and groups other than those previously mentioned. Below is a short list.
Cross-Culture Solutions
Work alongside locals in different areas to learn about their cultures whilst aiding them in their needs.
Interplast.org
Work with medical professionals in underdeveloped areas worldwide.
Rainforest-Alliance.org
Conservation programs, research projects, or Eco Trips.
WorldTeach
Travel to developing countries to teach and live alongside locals.
There are hundreds of organizations to choose from. First decide what type of task you would like you perform and then find the perfect volunteer vacation for yourself or your family. Have a nice time away from home and make a difference!