How to Score a Ticket to the Wimbledon Championships 2014
The Wimbledon Championships is one of the most anticipated sporting events of the year, taking over the London neighborhood bearing the same name.  With the biggest stars in the tennis world competing for the title and the biggest names in the world attending, it's definitely an event that has something for everyone.  But getting into a match isn't as easy as one might hope.
For anyone who thinks they can simply call a box office or ticket hot line, think again! This is not a football match or a pop concert; it is much more complicated. There are various ways to get tickets: advance planning, queuing, or having loads of money.
The Public Ballot was introduced in 1924 as the fairest way for the general public to obtain tickets for the following year. Applying is no guarantee of receiving tickets as it is always incredibly oversubscribed. Only two tickets are allocated per application. These are generated at random and specific days or courts cannot be requested.
To get tickets by public ballot means applicants apply between 1st August and return the application form by 31st December of the same year. The process is very strict; only one application per household is allowed and various other rules apply.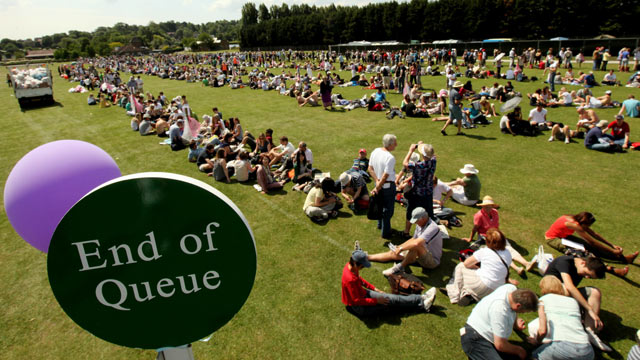 One of the great British pastimes is queuing; and that is something you will need to be very good at to get tickets. To some people, the Wimbledon Queue is more interesting than the actual tennis. Armed with sleeping bags, tents, flasks of tea, and whatever clothing the weather dictates, people sometimes queue for days to try and get one of the handful of tickets that goes on sale each day for the show courts. On the bright side of queuing, new friends are made, stories swapped, and generally everyone accepts it as part of Wimbledon.
There are very few sporting events where you can queue for premium tickets on the day of play and tickets go on sale on a daily basis at the Gate 3 turnstiles. These tickets give entry to the Centre Court, No.1 and No.2 Courts, and the Grounds. Prices for the 2014 Championships range between £33 and £112. Tickets for the last four days of Centre Court matches are not sold at the turnstiles.
A ticket for admission to the Grounds can be purchased, allowing access to Courts 3-19 with unreserved seating and standing room. Depending whether you go before or after 5pm, prices range from £5 to £20.
Ticketmaster is the only ticket seller authorised by the LTA to sell tickets online. A few hundred Centre Court and No. 3 Court tickets go on sale the day before play, but they are snapped up very fast. It is possible to register your interest in tickets and get the Wimbledon email newsletter. This gives you a higher chance of receiving tickets.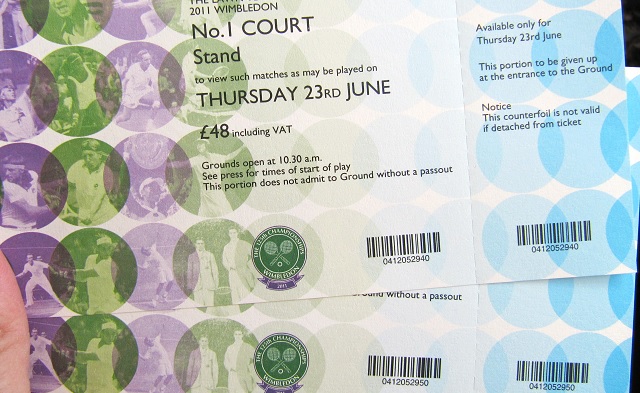 If you have a healthy bank balance and a lifelong interest in tennis or just want to impress your friends, you can become a Debenture holder, which gets you one ticket for each day of the Championships to the Centre Court, as well as access to exclusive restaurants and bars. Private car parking and a chauffeur service are all part of the package. Debenture tickets are the only type of tickets that are transferable to another person, and 3500 seats on the main courts are allocated this way.
Hospitality packages are available for corporate clients, or maybe you will be lucky enough to be invited along by your company. These packages don't always guarantee courtside seats and your marquee might be some distance from the main courts.
Whatever you do and however desperate you are, DO NOT buy a ticket from one of the scalpers that hang around the grounds. The police do their best to keep them away, but every so often, one will get through. The tickets they sell are very, very expensive, and you take a chance that the ticket might be fake or a genuine ticket that has been declared void for whatever reason.
WHAT IF YOU CAN'T GET TICKETS?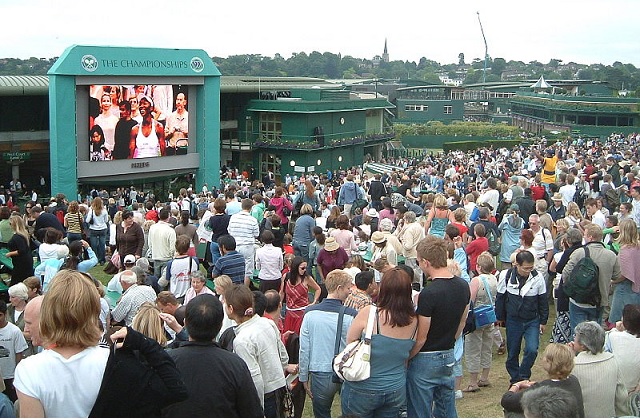 If you can't get tickets or don't fancy the queues, you can watch the action on giant TV screens across London and the rest of the country. One of the best places to go to near Wimbledon has to be Clapham Common.
On a sunny day, hopefully, what could be better than a picnic on the slopes while watching the super-toned bodies of your favorite tennis stars play their way to glory. Pack a basket with sandwiches, strawberries, and chilled champagne and enjoy the atmosphere with thousands of other tennis fans.
Visitors will find plenty of other things to do in London and Wimbledon when they are not at a tennis match. The famous Wimbledon Common is a beautiful and vast area of peaceful walks and woodlands. At Cannizaro Park on the edge of the common, there is a very pretty duck pond and lovely walks among pathways framed with rhododendrons.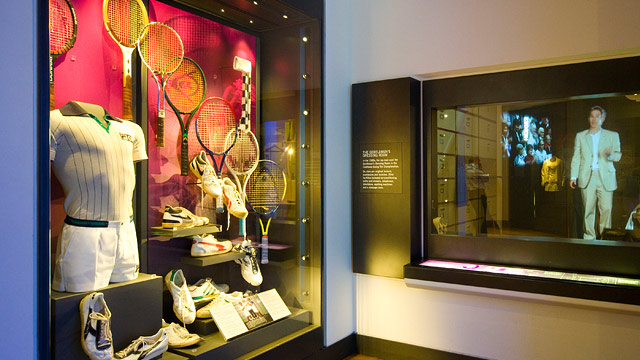 For anyone interested in the history of tennis, a visit to the Wimbledon Lawn Tennis Museum will be a delightful way to spend a few hours. For more general local history, there is the Wimbledon Society Museum of Local History and the Windmill Museum.