Literature-Inspired Travel Itineraries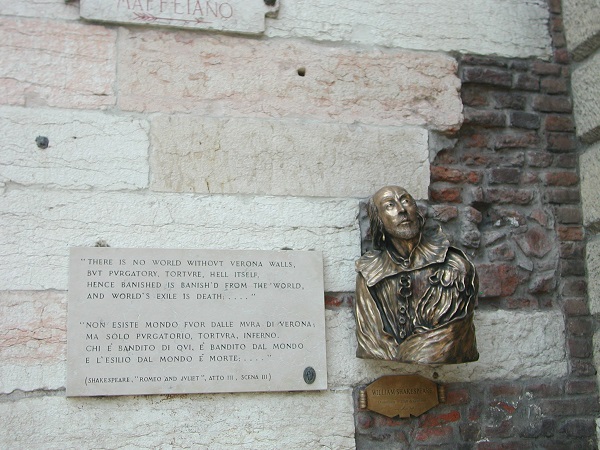 The written word has fascinated humankind for centuries. Its rhythm speaks to many a soul.  Traveling can speak to the soul in a similar fashion.  For many, therefore, literature-inspired travel is a perfect mix for their holiday.
When you are a lover of the works of Shakespeare, you have many European locations to visit, as well as those in the United Kingdom.  You could plan a holiday full of romance, history, and tragedy. Macbeth invites you through Balmorals, Royal Deeside, and the Scottish Highlands.  Experience the sorrow and tragedy of Hamlet as you travel through the Baltic nations with a smidgen of Copenhagen and St. Petersburg as well. For Othello,travel to Italy for romance in Venice, Rome, and Florence. Another Italian Shakespeare destination is perhaps the capital of romance, Verona—hometown of the star-crossed lovers, Romeo and Juliet. But what's a Shakespeare-inspired itinerary without a visit to the Globe Theater in London or the bard's birthplace, Stratford-Upon-Avon?
Charles Dickens is another iconic writer that has given us countless classics. When you take on Dickens in your literature inspired-travel, you will have the chance to travel to London haunts–both where he lived there and where he set many of his stories.  Plan on a trip to Kent as well, where you can visit the author's final home at Gads Hill Place. There's even an International Dickens Fellowship where you can find a guide to tell you all you ever wanted to know about the works and the author himself.
Of course, when searching out your inner muse, you may want to follow the path of a more contemporary writer, such as Dan Brown. He is the author of Angels and Demons, The DaVinci Code, The Lost Symbol, and more recently, Inferno.  Walk some of Europe's and America's most famous cities with Professor Robert Langdon, the main character in Brown's novels. Rome and the Vatican, France and England, Florence and Washington, DC, are covered in his adventures.
Literature-inspired travel doesn't need to go to exotic places. There are some very nice and easy trips you could take along a more meandering route where you have time to enjoy some of your favorite reads if you like. For instance, L. Frank Baum lived in the San Diego, California, area while writing part of Wizard of Oz and its accompanying novels.  The caves in the La Jolla region inspired Baum. You can also get hints of his work upon Coronado Island.  The famous San Diego Hotel del Coronado was his inspiration for Oz itself. Walking over to Starr Park Circle on the island, you'll see a pale yellow home. It's not stately, but it was Baum's home while living on the island.
When traveling along the east coast of the United States, you'll have an opportunity to visit old haunts of many well-known authors.  In Hartford, Connecticut, you can visit the home of Harriet Beecher Stowe, author ofUncle Tom's Cabin. In the same city, you can see the home of Noah Webster, creator and author of the first dictionary. Heading over to New York, stop off in Huntington Station at the Walt Whitman Birthplace and State Historic Site.  In the same state, Tarrytown is the home of Washington Irving.  Amongst his many novels is Sleepy Hollow, a present-day cozy town along the Hudson that has a friendly rivalry with neighboring Tarrytown over who inspired the novel.
Every country on Earth has its own story to tell. Stories that insult and intrigue and inspire, stories that frighten and enlighten and can accompany you on your literature-inspired travel from one corner of the world to the other. Don't miss out on this creative holiday planning!