The 13 Best Things to Do in Amsterdam
Amsterdam is the capital of the Netherlands. It's the largest city in the country and is a city of canals. It fascinates and falls in love with itself at first sight, it is a place of truly free morals with the cozy atmosphere of an old European city.
In Amsterdam, everyone will find something different: from going to museums and sightseeing to delicious cuisine of local restaurants and noisy parties. In this article we prepared the top 13 things to do in Amsterdam and you can consider adding to your Amsterdam itinerary.
1. Van Gogh Museum:
This museum talks about the life and professional development of the brilliant Van Gogh, showing visitors the world's largest collection of his works – both world-famous paintings and rather little-known works. It is amazing to observe how the master's style changes from early neutral sketches to bright sunflowers and the brilliance of creative madness in the later years of his life. There are also paintings by famous contemporaries of Van Gogh – Gauguin, Toulouse-Lautrec, Monet and Bernard.
We recommend booking tickets online and here is the official website www.vangoghmuseum.nl/en. The ticket prices vary depending on age and it's best to check the museum's website in order to get up to date information.
Address: Van Gogh Museum, Museumplein 6, 1071 DJ Amsterdam, Netherlands.
2. Rijksmuseum
The Rijksmuseum is one of  the best art museums in the world. There are astonishing masterpieces of very popular art masters. It has 7,500 other works of art exhibited in galleries with a total length of 1.5 km. In order to avoid crowds and save time for other spots we recommend you come here before 10 am or after 3 pm. Pre-booking tickets online also eliminates unnecessary waiting at the entrance.
You can buy tickets on the official website www.rijksmuseum.nl/en. The ticket prices vary depending on age and it's best to check the museum's website in order to get up to date information. Also for Museumkaart (Dutch Museum Pass) holders  is free.
The gardens around the museum are completely free to visit, and the local restaurant Rijks has even been awarded a Michelin star.
Address: Rijksmuseum, Museumstraat 1, 1071 XX Amsterdam, Netherlands.
3. Canal cruise
Canals are one of the main reasons why Amsterdam is so popular with tourists. The majestic waterway that runs through the city center and opens many stunning corners of the city, such as the Imperial Canal with its beautiful architecture. There are a lot of companies offering water tours in Amsterdam. It's available throughout the day and evening with different options. Prices vary depending on the company and the options. You can check online and choose which suits you better.
Address: depending on the Canal tour companies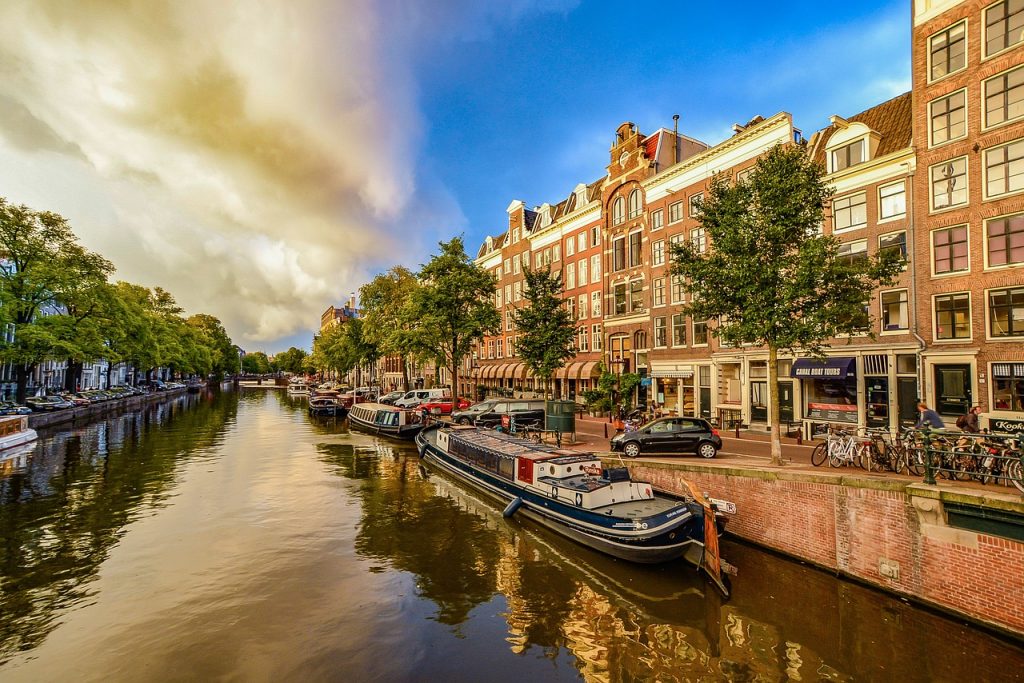 4. Vondelpark
Until 1953, VondelPark was a private park for the rich and powerful people. Today it is one of the main public places located in the heart of Amsterdam. This is a whole ecosystem, including bike paths, beautiful lawns, ponds with swans, interesting cafes, pedestrian bridges and winding paths. On a sunny day, the park is filled with tourists, cyclists, runners, parents with strollers, wheelchair users, teenagers playing football, sweetly chatting lovers and all this creates an atmosphere of a real holiday in the open air.
It doesn't require any tickets or an admission fee. Open 24 hours and free to the public.
Address: Vondelpark 1, 1071 AA Amsterdam, Netherlands.
5. Royal Palace
The Royal Palace was built in 1655 for the city hall, and this magnificent building became a palace only in the XIX century. Marble is abundantly used in the interior decoration, and the design motifs refer to the era of great geographical discoveries. This is especially true of the spacious Civic Hall (Burgerzaal), located in the very center of the building.
Most of the rooms of the palace are located on the 1st floor. Among the most interesting things to pay attention to are 51 chandeliers, damask products, gilded clocks and paintings by Ferdinand Bol and Jacob de Wit. We recommend you book tickets in advance according to the availability of spots. Sometimes due to special events or renovations some time slots won't be available.
Here is the official website www.paleisamsterdam.nl/en/. Prices may vary and depending on age, also its worth to mention for Museumkaart (Dutch Museum Pass) holders if free.
Address: Nieuwezijds Voorburgwal 147, 1012 RJ Amsterdam, Netherlands.
6. Jordaan neighborhood
Jordan is the most popular area of Amsterdam, which is known for an interesting combination of residential complexes with cozy garden courtyards, lively markets, as well as expensive boutiques and cafes. Here you can safely spend the whole day just walking along the picturesque streets, although there is enough entertainment here.  In this area is located the most popular Anne Frank Museum, while many overlook that in Jordan you can also see Woonboots – a rather interesting floating house museum.
On Saturday mornings, Lindengracht turns into a huge open-air market where local crafts, fruits, flowers and all kinds of sweets that you can take with you on a picnic. There are no tickets required to visit this neighborhood, but you can book a walking tour which offers different companies.
Address: no specific address, you can reach Jordaan area by public transport or by bike.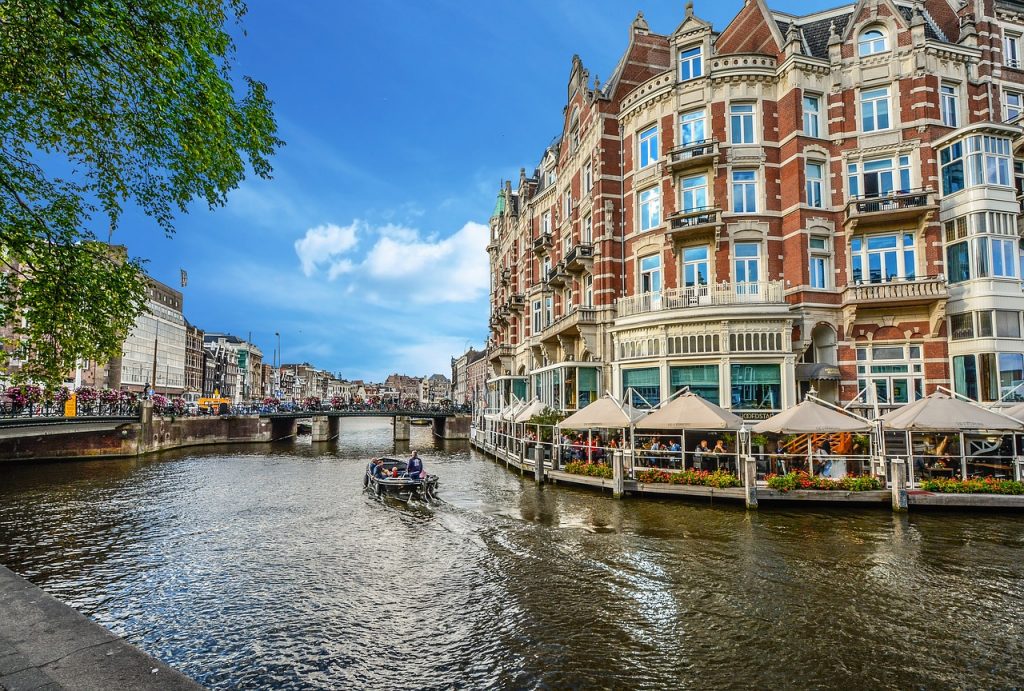 7. Rembrandt House Museum
This most interesting museum is located in the former Rembrandt house, where maestro Rembrandt spent his most successful and creative years working on large orders like "Night Watch" and managing the largest painting studio in the Netherlands. However, this successful period lasted relatively short: his work went out of fashion, he had problems in the personal life, and soon he went bankrupt. The inventory that took place in the house before the eviction of Rembrandt, just allowed to recreate the living conditions of the master with such reliable accuracy. If you want to understand what this place is, let's say that the studio looks like the master just went out for a walk. Special etching workshops are organized for tourists.
You can purchase tickets in person or online here www.rembrandthuis.nl/en/. We recommend you book in advance online and prices may vary depending on age and also for Museumkaart (Dutch Museum Pass) holders if free.
Address: Jodenbreestraat 4, 1011 NK Amsterdam, Netherlands.
8. NEMO Science Museum
The green building with a sloping roof of the NEMO Museum which is designed by the Italian architect Renzo Piano. It's located directly above the tunnel under the River IJ. There is an observation deck on the roof which offers a magnificent view of the Old Town. This museum houses exhibitions dedicated to natural phenomena, the laws of physics and the operation of various devices. Everything inside is interactive, so young visitors will have something to occupy themselves on all three floors of the complex. It is worth noting that all the "insides" of the museum, including pipes and ceilings, were deliberately left not hidden so that visitors could see in detail what the building consists of.
You can book a ticket online in this official websitewww.nemosciencemuseum.nl/en/. Prices for ticket vary depending on age and also for Museumkaart (Dutch Museum Pass) holders if free.
Address: Oosterdok 2, 1011 VX Amsterdam, Netherlands.
9. Heineken®'s "Experience"
Heineken®'s brewery has organized an interactive exhibition called "Experience"  on the site of its old brewery. "Experience" is an exciting overview of the brewing process, where you literally "become" a beer, experiencing all the stages of its preparation. Pre-booking tickets online saves its recommended which allows you to skip the queue to purchase a ticket. VIP guided tours lasting 2.5 hours end with a beer and cheese tasting.
Now you know exactly what to visit in Amsterdam first! Official website www.heinekenexperience.com/en/ where you can find detailed information.
Address: Stadhouderskade 78, 1072 AE Amsterdam, Netherlands
10. Bloemenmarkt
The flower market is a great delight and a surge of emotions, thanks to which you will remember Amsterdam forever. This is the only floating flower market in the world, which is located on Singel Street between Viitzelstraat and Koningsplein. Here you can find endless rows of stalls selling flowers, seeds, spices, herbs and plants. Separately, it is worth highlighting the design of each pavilion and the sweet floral aroma that can be heard in every corner of the market. The market is open from Monday to Saturday until 17:30, and even if you don't want to shop, you should still walk around this wonderful place.
Also, don't forget that Netherlands is famous for tulips, and, of course, all sorts of varieties of these lovely flowers are sold in this market. You can walk here for free and you can some colorful majestic flowers.
Address: Singel, 1012 DH Amsterdam, Netherlands.
11. Anne Frank House
Anne Frank House is visited by more than a million tourists every year. Here you can see Anna's melancholic bedroom and the very diary that the girl kept. Be sure to register in advance and purchase tickets online.
Official websitewww.annefrank.org. After the recent renovation in 2018, the museum has additional extensions and another entrance.
Address: Prinsengracht 263-267,1016 GV Amsterdam, Netherlands
12. Artis Zoo
The oldest zoo in continental Europe is home to many wild animals, for which a spacious and comfortable habitat is provided. The beautiful green zone of the zoo stretches along the canal with a view of the old Entrepot pier. The animals represent the African savanna and tropical forests. Reptiles, lions, jaguars, elephants, giraffes and many primates are waiting for you here. For lovers of the marine environment, there is a luxurious aquarium complex with coral reefs, sharks and even part of the Amsterdam Canal, which can be viewed through the eyes of fish. The planetarium and the petting zoo deserve special mention. Next to the zoo there is a museum of microbes of Micropsia, which will tell you about millions of tiny microbes invisible to the human eye.
You can purchase tickets here on the official websitewww.artis.nl/en/visit/tickets/. Prices may vary depending on the age and also for Museumkaart (Dutch Museum Pass) holders if free.
Address: Plantage Kerklaan 38-40,1018 CZ Amsterdam,Netherlands
13. Bike tour
The bicycle and Amsterdam are two inseparable concepts!  We recommend you ride a two-wheeled horse in a cozy and beautiful city where everything is made for cyclists. Amsterdam is truly a bike-friendly place. A breeze is waiting for you by the banks of the Amstel River, romantic canals and bridges, cute gingerbread houses, modern architecture and a gorgeous bird's-eye view.
Guided tours tell you the history of Amsterdam and the curious details of the life of the locals in a fascinating way, show you famous and hidden city places, help you take great photos and share a good mood. Guided tours offered by different companies and prices differ.
Address: may differ depending on the tour companies.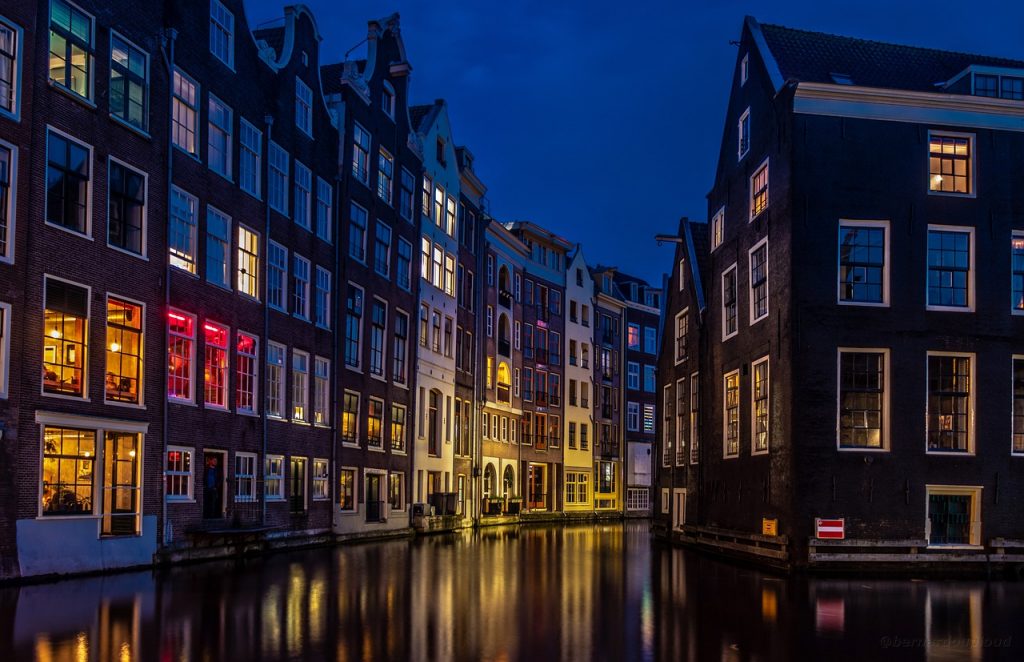 Amsterdam is a very contrasting place with a rich culture, incredible history and heritage. We highlighted only 13 attractions in this article. Amsterdam can offer a lot of things, and this city has a mix of everything. Cheese, tulips, canals, bicycles, light drugs, shopping, red lights, architecture, freedom of action, same-sex marriage.  We think you will definitely find something for you, and you want to come back again and again.  Your visit will be the most unusual, memorable and fascinating.