Top 10 Cambodian Special Dishes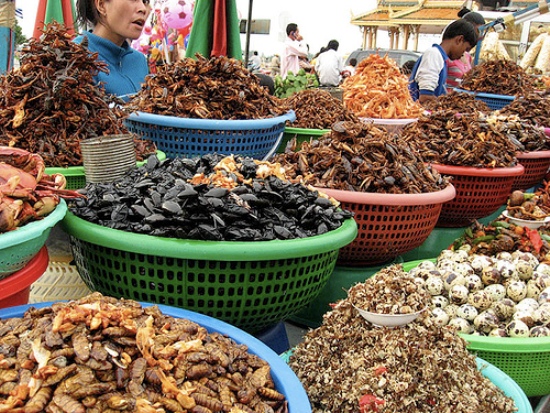 Compared to its neighboring Thailand, Cambodia is less popular in terms of food publicity. But Cambodia actually has more than those written on websites or papers when it talk about food
1. Bai sach chrouk
This dish is pork and rice. You can find it usually early in the morning. The pork is grilled before it is marinated in garlic or coconut milk. The Cambodian serve it over a rice with cucumbers and radish with ginger. Sometimes you will get a chicken soup with fried onions and scallions over the top of it.
2. Fish amok
This dish is more like a regional food than Cambodian's specialty. But in Cambodia this dish has a great number of enthusiast fans.The preparation is simple, is basically a really fresh coconut milk and fish mousse with kroeung. Kroeung is some kind of curry paste with shallots, lemongrass, fingerroot, turmeric root, galangal and garlic.
3. Red curry Khmer
Unlike Thai's curry, Cambodian curry is less spicy. However, the look is almost the same. This dish comes with fish, chicken, beef, eggplant, potatoes, lemongrass, kroeung and green beans.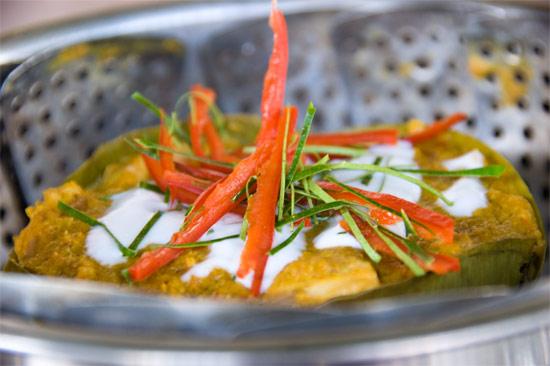 4. Lap Khmer
Lap Khmer is beef salad food but itis less than meat salad. Most restaurants serve it grilled with lemongrass, fish sauce, garlic, Asian basil, shallots, green pepper and green beans.
5. Nom banh chok
International tourists often call "Khmer Noodles" insted of  Nom banh chok. Cambodian people usually eat it for breakfast. The dish, as the name suggests, contains noodles.
6. Kdam chaa
Kdam chaa is often found along the shorelines of Cambodia. Kdam chaa is fried crab with tasteful spices like garlic chives and Kampot pepper. It is one of the most popular seafoods in Cambodia.
7. Red tree ants with beef and holy basil
Ever sampled any tree ants? Try this red tree ants dish served with holy basil and beef a while in Cambodia. The ants come with a variety of sizes. Chilies are added to make the dish hotter.
8. Ang dtray meuk
Besides fried crab, grilled squid is also popular in Camboda. Ang dtray meuk is what Cambodian people call for grilled squid. The squid is soaked in fish sauce or lime juice before the chef barbecues it on wooden skewers. This food is best sampled during summer.
9. Cha houy teuk
Cha houy teuk could be the best Cambodian dessert. It is a jelly dessert made from sago or rice wet in coconut milk and covered by red beans, jackfruit, pumpkin, red beans and taro. But the best "cha houy teuk" is jelly made from agar, a seaweed gelatin.
10. Fried fish on the fire lake
Cambodian people are not always using coconut milk for the dishes. Is a dish made from deep-fried fish with a coconut curry and vegetables. The dish is usually is with rice.